Honor Flight Syracuse, Inc. is a fully registered New York State 501(c)(3) public charity. Gifts are tax deductible to the full extent of the law.
A generous donation of $450 sponsors a Veteran to fly. Donations of all sizes are welcomed. The dollar amount of your donation is NOT published on our Donors Roll.
There are now two ways you can donate!
1) Donate Online using PayPal:
2) Complete a Donation Form: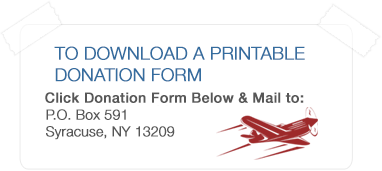 We would like to acknowledge and thank those who have graciously donated time, energy, resources and financial support to make this mission possible.



Major Corporate Sponsors:

SRC, Inc. – Corporate Sponsor & Volunteer Teams
www.srcinc.com



Le Moyne College, Department of Nursing – Veterans Health & Safety Leadership and Volunteer Nurses
Le Moyne Nursing Website



M&T Bank – Corporate Sponsor
www.mtb.com



AXA
www.us.axa.com


Additional Sponsors:
A&P Auto Parts, Inc.
American Legion Allen Giles Post 588
American Legion Auxiliary – Bassett-Baxter Unit 789
American Legion Burns McCauliffe Post 465
American Legion Cicero Post 787
American Legion Hastings-Gorski Post 1128 Auxiliary
American Legion Prior Stock Post 1552
American Legion Skaneateles Post 239
American Legion William C. Dexter Post 673, Inc.
Americu Credit Union
Aurora Volunteer Fire Department
Baldwinsville Rotary Club Foundation
Benwood Auto Parts, Inc.
Bouck Real Estate
Bousquet Holstein PLLC
Byrne Dairy, Inc.
C&S Companies
Camillus Elks Lodge No. 2367
Camillus Rotary
Carrier Corporation
CDE&T Partners (Sonic)
Central NY Chapter of MOAA
Chandler Automotive Sales & Service, Inc.
Chittenango Family Dental
Clearburger, Inc.
CNY Chapter 490, Military Order of the Purple Heart
Constableville Auction Hall
CSEA Onondaga Local 834
Driver's Village
Eastwood Rotary Foundation
Empower Federal Credit Union
Flaherty Masonry, Inc.
Friends of Schumer
Fulton Rotary Club, Inc.
Greater Rome Utica Chapter MOAA
Grossman St. Amour CPAs PLLC
Italian/American Civic Association of Massena, Inc.
Jeremy Spencer Memorial Trust
Journey of Faith United Methodist Church
Key Bank
Lockheed Martin Employees Federated Fund
Lockwood Lavender Farm
Lowville Elks Lodge No. 1605, Inc.
Menter, Rudin & Trivelpiece, P.C.
Millwrights Local 1163
National Grid
National Tractor Trailer School, Inc.
Navy Seabee Veterans – Island X-19 NY
NIMO/National Grid Retirees Club
Northern New York Association of Life Underwriters
Nucor Steel – Auburn
Pinckney Hugo Group
Riccelli Enterprises
Right Coast, Inc.
Royal Chevrolet/Cortland, Inc.
Salem Christian Fellowship Church
Sons of the American Legion – John Cool Post 257
Sons of the American Legion – Post 1468
Strategic Security Concepts, Inc.
Strough Technology Club
Syracuse Corvette Club, Inc.
Syracuse Insurance Day Committee, Inc.
The Allyn Foundation
The Fountainhead Group. Inc.
The Harold Lee Fund
The Penn State Club of Greater Syracuse
The Villas of Summerfield
Tolpa's Auto Parts
Tops Friendly Markets
Town of Throop
Universal American
VFW Christy Rock Post 2782
VFW Harland J. Hennessey Post 5538
VFW Lewis County Memorial Post 6912
VFW Lt. Cyrus Garnsey III Post 1323
Visiting Nurse Association of CNY, Inc.
Visual Technologies
Welch Allyn
Honor Flight Syracuse, Inc. is a registered New York State 501(c)(3) public charity and a designated hub in the national Honor Flight Network. For more information on the coordinating services of the national program, please visit: www.honorflight.org