TOPS Friendly Markets Selects Honor Flight Syracuse as Taste of Syracuse Charitable Partner
TOPS Friendly Markets has been a longtime supporter of Honor Flight Syracuse, thanks to their generous contributions of all the items in our veterans' and guardians' packs on each of our missions. We're excited to share that our relationship is expanding. TOPS has selected HFS to be its charitable partner for the AmeriCU Credit Union Taste of Syracuse presented by TOPS Friendly Markets. As presenting sponsor, TOPS will have a large presence at this event and is generously donating all sales from the TOPS food tent and prize wheel to HFS. We're excited to be joining them for all of the Taste celebrations, to raise funds and awareness about the mission of HFS.
The Taste of Syracuse, CNY's biggest food and music festival, will be held on Friday, June 5 and Saturday, June 6 in and around Clinton Square. Admission is free. We'll need volunteers on site at the TOPS tent, helping participants spin the prize wheel for a $1 donation and spreading the word about Honor Flight Syracuse.
"Tops has been a tremendous community partner and we are extremely excited to be honored as their beneficiating charity for the 2015 Taste of Syracuse," said Randy Flath, president of Honor Flight Syracuse. "We invite everyone to come and visit us at the festival, enjoy great food, great music, and learn more about the mission of Honor Flight. The Tops donations from the Taste will help Honor Flight Syracuse continue honoring and transporting veterans at no cost to visit their memorials in Washington, DC."
"The work that Honor Flight Syracuse does is amazing and truly admirable," said Kathy Allen, TOPS' Community Relations Manager. "I had an opportunity to see, first hand, the mission of is organization and the deep impact they are having on the men and women who served and sacrificed for our country. TOPS is proud to support this incredible organization."
Known for amazing food samples from local restaurants and both local and national musical acts, the Taste of Syracuse officially kicks off the summer festival season in Syracuse. "Food Trucks on Franklin" will be a new highlight this year, showcasing various food truck items you can find around the city. Saturday will feature a "Salute the Troops Saturday" event to honor the men and women who serve our country.
"We're looking forward to a great Taste of Syracuse weekend," said Galaxy Events General Manager Carrie Wojtaszek. "No matter what you're looking for, musically or food wise, we truly can say we've got it at Taste of Syracuse!  We're also happy to honoring the members of the military that serve our country and community each and every day."
We hope you'll show your support and join us at the Taste of Syracuse. Stay tuned for more information as the event nears! Plans are underway for an alumni veteran mini-reunion to help kick off the festival.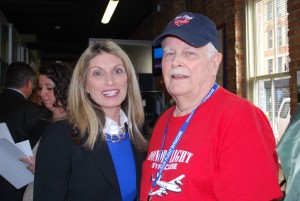 Kathy Allen, TOPS' Community Relations Manager and Bard Conroe, alumni veteran from Mission 002, at the Taste of Syracuse kick off on March 25.