Mission #006: Mission Accomplished! – Thanks to All!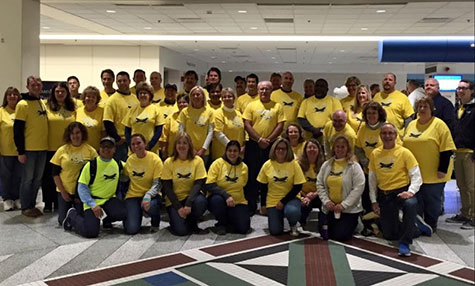 Dear Volunteers, Supporters, and Friends,
On behalf of Dick Blansett, John McMakin and myself who led HFS Hancock hub-end Ground Team events for Mission 6, an immense "Thank You!" to the Honor Flight Syracuse volunteers and organizations who contributed so much to the success of this past Saturday, including:
Syracuse Hancock Airport Fire Department, for the Water Cannon Salute;
Patriot Guard Riders, for providing an Honor Guard, morning and evening;
Thread Bear Quilters Guild, for presenting hand-crafted lap quilts to each Veteran;
Syracuse University ROTC, for presenting a special pillow to each Veteran;
Syracuse Scottish Pipe Band;
Civil Air Patrol, SU ROTC and Mattydale American Legion Post, for providing Color Guards;
Fowler Navy Junior ROTC students, for helping address crowd needs during the Welcome Home;
NY Air National Guard 174th Attack Wing, for providing the tram service to and from the parking area, morning and evening.
And all the individual Honor Flight Volunteers from across the Central NY community who provided the time and talent in so many ways, not just for Mission 6, but throughout these past three years to ensure program success!
Special recognition to three tremendous partners:
SRC, Inc. & AXA Volunteers who led, staffed & flawlessly executed the Mission 6 departure, many of whom also returned to the Airport for the Welcome Home;
Le Moyne Department of Nursing – LeMoyne nurses have been with HFS since the beginning, providing the core of the superlative nurse team, ably led by Kara Keyes, without which there'd be no Honor Flight Syracuse. Veteran Health & Safety is at the very heart of each and every mission. Of course they are on the Flight Team, but the majority of their work is in the pre-Mission planning, calling and assessing the needs of each Veteran and the capabilities of each Guardian.
On a personal note, words are inadequate in describing how proud I am of the HFS 100% Volunteer organization, an organization where virtually every dollar spent goes to support our Mission program for the deserving Veterans of our community. For those of you finding yourselves perhaps too close to the details, you may tend to see flaws, or, more accurately, ways to improve processes for the next mission.  With six successful missions though, our Volunteer team continues to perform superbly, as it has from the beginning.  As with past HFS Missions, I was again besieged with many positive comments from Mission 6 Veterans, family members and friends; our Distinguished Guests and media reps were effusive, repeatedly expressing their amazement at how well organized and how well run the Mission 6 operation went, not to mention the enthusiasm of the HFS Volunteers themselves.
This and more is all thanks to you, our amazing volunteers. So on behalf of the entire board, I say THANK YOU!

John F. Paddock
Co-founder & Vice President
Honor Flight Syracuse