2017 Board of Directors
Member: National Honor Flight Network
www.HonorFlight.org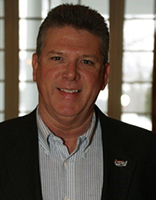 Randy Flath, President and Co-Founder
NYSOMH
In 2009, Randy Flath traveled as a guardian with his father on a mission for Honor Flight Rochester. After seeing how much this experience meant to his father and the other veterans on the mission, Mr. Flath was determined to bring this experience to the veterans of Central NY. In 2011, Mr. Flath became the President and co-founder of Honor Flight Syracuse.
As president, Mr. Flath leads the board to coordinate missions and ensure the growth and stability of Honor Flight Syracuse. He does this with a sense of urgency to thank our aging veterans while there is still time. He has great respect for the service and sacrifices of our nation's veterans.
Mr. Flath has worked for many years in the commercial printing industry and currently provides office support at a local healthcare facility. He lives in Camillus with his wife Nancy, a frequent volunteer at Honor Flight Syracuse events.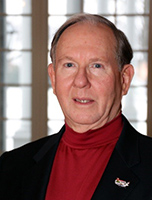 John Paddock, Jr., Vice President and Co-founder
Rear Admiral, U.S. Navy, retired
Rear Admiral John J. Paddock, U.S. Navy (retired) became familiar with Honor Flight when Mr. Randy Flath, HFS President and Co-founder, presented the concept to a group of civic individuals at a Rotary luncheon. Impressed by Mr. Flath's enthusiasm and vision, he joined with Mr. Flath to launch this valued program and resource for the Central NY military veteran community, serving as HFS vice president and co-founder.
Admiral Paddock works to ensure the stability and growth of Honor Flight Syracuse by focusing on policies and procedures to set a path for the future. His vision helped Honor Flight grow to what HFS has become today, and set the organization on a path to success. Initially, he coordinated each Mission's Welcome Home ceremonies. He now focuses on HFS governance and leads the team which compiles the military biographies of HFS Mission veterans to highlight their many contributions to provide the security and freedoms enjoyed today by not only U.S. citizens but many others throughout the world.
Rear Admiral Paddock spent thirty-seven years active and inactive duty with the U.S. Navy and the Navy Reserve. He served in Joint and Combined Joint posts and operations with all US military branches and with allied forces in NATO. In addition to his years of service to this country, he had a parallel career in the industry with General Electric and Lockheed Martin. He also is President and Owner of Advance Concept Consulting, LLC. He is an alumnus of Syracuse University and Naval Postgraduate School.
Admiral Paddock lives in Skaneateles with his wife, Sharon.
Kara Keyes, MS, RNC – Director, Health and Safety
Instructor/Clinical Coordinator, Le Moyne College
Kara Keyes, MS, RN, joined Honor Flight Syracuse in 2013 as the director of health and safety. Leading a team of nursing students from LeMoyne College of Nursing, Ms. Keyes supports the medical needs of the veterans traveling on a mission. In addition to screening every veteran prior to a mission to understand each unique health situation, Ms. Keyes oversees the 8 nurses that travel on each mission.
She sees Honor Flight an opportunity to listen to voices of a generation that sacrificed their lives and families for their country. Their experiences are priceless and invaluable and need to be shared! HFS gives them the avenue to do that.
Ms. Keyes lives in Cicero with her family and is a professor of nursing at LeMoyne College.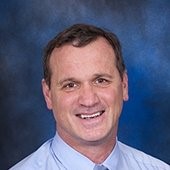 Mike Gasapo – Director of Operations
Plant Manager, Linde Corporation (USMC retired)
Michael Gasapo has been the Honor Flight Syracuse Director of Operations since inception in 2012. He plans and leads each Mission to Washington, DC to honor and thank our veterans. He first became involved with Honor Flight Syracuse to honor those veterans that have served our country and in memory of the friends he served with that are no longer with us.
Michael is a retired Major from the United States Marine Corps, after serving for 20 years in a variety of positions and locations, including Somalia, Southwest Asia, Korea and Japan. Michael is currently the Plant Manager for Linde HealthCare. Prior to that, he was the Strategy Manager for SRC, Inc. from 1998 – 2013.
Military life runs in the family for the Gasapos. Michael lives in Onondaga Hill with his wife Sara, a former Navy nurse. Together, they have three sons – James, a former Captain with the 101st Air Assault Division with 2 combat tours in Iraq, Steven, and Daniel. His Dad, Mike, is a World War II veteran.
Tom Shaw, Secretary/Counsel
Attorney-at-Law (USAF Veteran)
Dick Blansett – Treasurer
LT COL US Air Force, Retired
Richard (Dick) Blansett joined the Honor Flight Syracuse board in November 2012 and currently serves as Honor Flight's treasurer. He is a member of the Development Committee, and also serves as the lead coordinator for the Welcome Home program.
Mr. Blansett retired in 2011 from the American Red Cross, where he served as the Regional Development Director for over a decade. He served in the 174th FW, NY Air National Guard from 1967 – 2000 in several roles, both active duty and traditional guardsman. He also spent many years as District Scout Executive for the Boy Scouts of America.
Mr. Blansett was born in Watertown, NY and currently resides in Liverpool with his wife Julie. They have two children and two grandchildren.
Jeff Bastable – Director of Development/Philanthropy
ReLe Consulting & American Cancer Society (retired)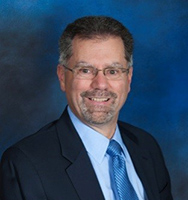 Phil Fazio – Director at Large
Executive Vice President of Finance, CFO and Treasurer, SRC, Inc.
Phil Fazio has been with Honor Flight Syracuse since its inception, as he works for the founding sponsor, SRC, Inc. His experience on Mission 02 in October 2013 changed him forever and Honor Flight is his passion as a way to honor his late father, a World War II veteran.
On each mission, Mr. Fazio strives to show the same honor and respect to all our veterans – World War II, Korean War, and Vietnam War. As he brings strong financial knowledge to the board, he also works to ensure the next two years of planned missions are fully funded by the end of the previous year.
Mr. Fazio is the EVP of Finance and CFO of SRC, Inc. He has also worked for Altarum (Formerly ERIM) in Ann Arbor, Michigan, and Philips Electronics. He has a wealth of financial and military knowledge as both SRC and Altarum are defense contractors.
Mr. Fazio is originally from New Jersey and came to Syracuse in 2006. He and his wife Meg have three children and one granddaughter. They live in Syracuse.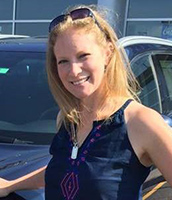 Amy Delia – Director of Marketing Communications
Communications Director, American Cancer Society
Amy Delia joined Honor Flight Syracuse in August 2014 as the director of the communications and marketing team. Her team coordinates media outreach, the Speaker's Bureau, merchandising, and event participation. Mrs. Delia served as a Guardian on Mission 04 and joined Honor Flight in honor of her grandfather, an early Honor Flight participant out of the Ohio hub.
Ms. Delia has worked for the American Cancer Society in Central NY for over 13 years and has expertise in the areas of media, marketing, branding, advertising, social media, and issues management. She has extensive media relationships throughout the Honor Flight region.
Ms. Delia resides in Baldwinsville, NY with her husband Jim and their daughter Alexa. As her daughter never had the opportunity to get to know her great-grandfathers, both of whom served in World War II, Ms. Delia sees Honor Flight as a way to not only honor veterans, but to ensure their memories, stories, and knowledge continue to be passed down for future generations. We must never forget what these heroes gave so we have today's freedoms.
Tara Renner – Director at Large
After learning about Honor Flight Syracuse from a Rotary meeting, Tara Renner was so moved she volunteered to join the Audit Committee. In early 2016, she officially joined the board as chair of this committee. She has volunteered for various duties on several missions.
Ms. Renner owned Adams Travel in Auburn for fourteen years and has worked as an accountant for various companies, holding positions ranging from Accounting Supervisor to Controller. Most recently she worked for Time Warner Cable and as the Controller of the local Longhouse Boy Scout Council.
Ms. Renner lived in Cleveland for ten years and then moved up to Skaneateles, NY. She currently resides in North Syracuse. She graduated from Skaneateles Central H.S., Bethany College, American Graduate School of International Management with a Master of International Management and Syracuse University with an M.B.A. in finance. She lived in Spain during her junior year abroad and attended the University of Madrid.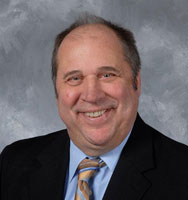 John Hall – Director of Volunteers
Manager Sales Engineer Development, Carrier Commercial Systems
John Hall joined Honor Flight Syracuse as a guardian on Mission 2 with his father, a WWII veteran, and his brother a Viet Nam veteran. He is Director of Volunteer Resources and has served in various capacities with Honor Flight to include Marketing/Communications team member, leading the HFS Speakers Bureau, and serving in Mission day volunteer roles.
A graduate of Syracuse University in 1976; John spent 23 years of service both active duty and reserve as a commissioned officer in the United States Army having retired as a Major – US Army Reserve.
He served as Company Commander and Operations Officer 3rd Brigade – Training and Doctrine Command, and various staff roles in the 376th Combat Support Hospital and 241st General Hospital.
His professional career spans 37 years with Carrier Corporation serving in various leadership and managerial roles in Human Resources both transport refrigeration and commercial systems divisions. John is currently Manager – Carrier Sales Engineer Development and is responsible for the acquisition and development of Carrier's newly hired sales engineers.
John and, his wife Kathy, are the proud parents of 3 children and 2 grandchildren. They make their home in Onondaga Hill – Syracuse, NY.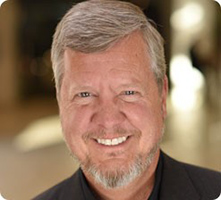 Eric Amberge – Director of Information Systems
Vice President, Altamira Technologies Corporation (USAF veteran)
Eric Amberge joined the Honor Flight Board in October 2012 as Director for Information Systems, after having served as a Guardian on Mission 01. For subsequent missions, Eric continues to serve as a Flight Staff mission volunteer and as a bus Captain. He is employed as Vice President, Altamira Technologies Corporations where he builds and leads strategic partnerships to support Defense Department software programs throughout North America. Prior to joining Altamira, Eric was a Senior Director at Oracle Corporation and a Program Manager for Kodak's Government Systems Division. Eric started his career serving over eight years as an active duty Air Force officer. His military service spanned the latter part of the Cold War and Operations Desert Shield/Desert Storm. During his Air Force tenure, he led an award-winning team that successfully developed and fielded a highly complex software system (the Advanced Planning System), which unified and improved Theater Air Battle Planning worldwide.
Eric also serves our veterans as Commander of American Legion Post #239 in Skaneateles, NY, where he volunteers in support of the Mission Continues Program, and the Syracuse Veterans Administration Hospital. He resides in Skaneateles, NY with his wife Tammy, and together they have three sons, two daughters, two grandsons, and one granddaughter.
SPECIAL THANKS:
The HFS Board of Directors expresses our most profound THANKS to Honor Flight Rochester for mentoring, training and supporting the founders of Honor Flight Syracuse.