Honor Flight Syracuse at Taste of Syracuse, thanks to our friends at Tops Friendly Markets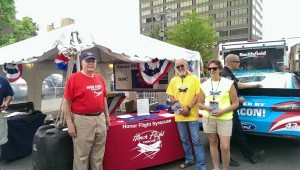 Tops Friendly Markets has been a longtime supporter of Honor Flight Syracuse. Kathy Allen, community relations manager for Tops, has championed our mission and even joined us as a Guardian on Mission 004. Tops generously provides all the goodies in the backpacks our Veterans and Guardians receive on mission day, a contribution that makes the day even more special for our Veterans.
We were thrilled when Tops Friendly Markets selected Honor Flight Syracuse to join them at the Taste of Syracuse event held June 5th – 6th in Downtown Syracuse. This iconic summer kick-off event for Central New York attracts thousands of people to enjoy tastes of food from some of CNY's hottest kitchens. In addition to sharing the mission of Honor Flight Syracuse and recruiting more veterans to join us on upcoming missions, Tops generously donated all the proceeds from their food and water sales for the event. This totaled over $16,000 and we are so grateful to Tops for helping us continue our mission!
Many thanks to the Honor Flight Syracuse volunteers and veterans, and to the tremendous Tops staff, for joining us at the booth. And thank you to all who stopped by to visit – we loved hearing your stories and sharing the memories of our veterans.
Check out some photos from the event on our Facebook page.