January 10, 2015 In Newsletter By hfs_admin
SRC LEADS THE WAY IN HONORING THE "GREATEST GENERATION"

CORPORATE SPONSOR A TRUE PARTNER FOR HONOR FLIGHT SYRACUSE

Since Honor Flight Syracuse (HFS) formed in 2012, we've brought more than 300 veterans to Washington, DC to visit their memorials. This massive undertaking would not be possible without dedicated volunteers, amazing Guardians, wonderful medical staff and strong corporate support. Since day one, SRC, Inc. has led the way with their commitment to HFS.
The first step was to find funding needed to get the first flight off the ground and SRC stepped-up to the plate to provide critical financial resources for Mission 001. SRC has been a major corporate sponsor on every HFS mission since and their support goes beyond financial as they provide volunteers and assistance to the group in every possible way.
"SRC employees are part of every mission – from the early morning send-off, to acting as Guardians, to the amazing welcome home celebration at Hancock after an emotional day in Washington, D.C.," says Honor Flight Board President Randy Flath. "This program began as a dream to honor veterans from the Greatest Generation and beyond, and when SRC joined our efforts, the dream became a reality."
The SRC backing is widespread throughout the organization—from President Paul Tremont volunteering and encouraging others, to CFO Phil Fazio being an actively involved board member, to the employees and their families. More than 100 volunteers, like John McMakin, an Engineering Lab Manager for SRC and an Air Force veteran, who heads the HFS Mission Departure Team, support each mission. Katie Hatch, senior corporate reputation specialist, also puts in countless hours of her own time to coordinate logistical details and promote the HFS objectives. In addition to the above assistance, SRC supplied HFS with a paid intern for the summer, providing much needed data management and marketing support.
"SRC is proud to support Honor Flight in Syracuse and around the country," Paul Tremont said. "Teaming with the military and veterans is at the core of SRC's mission and philanthropic focus. Our employees, many of whom are veterans themselves, look forward to each flight and are pleased to give back to those who served our country."
SRC has encouraged other corporate sponsors to join the cause and asks your organization to consider doing the same. Additional contributions are needed to increase the capacity on each flight as time is of the essence to reach our aging veteran population. There are many opportunities for companies to get involved. If you'd like to learn more about corporate sponsorship, please contact Jeff Bastable.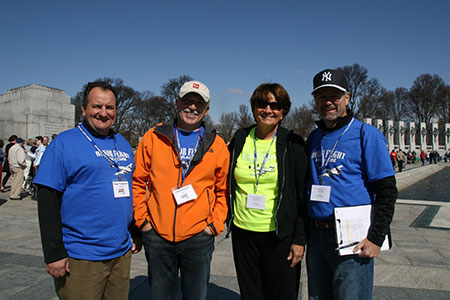 From left: Paul Tremont, Allen Naples, Terri DeBottis, Phil Fazio