Honor Flight Syracuse Thanks: AXA Cares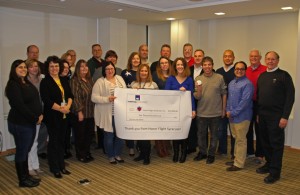 Honor Flight Syracuse is entirely volunteer driven, and relies on the generous support of the Central New York community to continue to serve our veterans and launch successful missions. For our upcoming Mission 005 in April, we are grateful to recognize a new corporate sponsor. While AXA has provided strong volunteer support to Honor Flight Syracuse since just after Mission 001, they have continuously
grown their passion and support, resulting in a generous donation and recognition as one of our tremendous corporate sponsors.
AXA Cares member Jo-Anne Grigg introduced the company to Honor Flight after coverage of Mission 001, held on October 6, 2012. AXA CARES is one of their many volunteer groups, and is dedicated to supporting military veterans and families. "Honoring the men and women who fought for our freedom brings us great joy and pride," says Stephanie Nicolas of AXA. "Witnessing their excitement as they depart and return from their memorials will always be treasured memories for our volunteers."
AXA Cares volunteered for Mission 002 in April 2013, and three AXA employees joined the Mission itself as guardians and a volunteer. Since that time, AXA has developed a great relationship with Honor Flight Syracuse, as we all share a passion for the mission of honoring veterans. Volunteer support of HFS missions continues
to grow, and over 50 AXA volunteers supported our most recent Mission 004.
The strength and growth of the partnership is the result of significant AXA leadership support and interest in the mission of Honor Flight Syracuse. Nick Lane, Senior Executive Director and AXA CARES Executive Sponsor, truly understands the importance of AXA CARES as he also served as a Captain in the U.S. Marine Corps. Steve Walz and Rob Delcampo, AXA CARES Chairs, work tirelessly to raise awareness of the mission and engage their staff in volunteer opportunities. Sue LaVallee, Managing Director; Kevin Nallen, Director; and Laura Whitney, Director, support AXA CARES and the Honor Flight sponsorship. They all feel it is incredible to work for a company who believes in the importance of this cause.
The board of Honor Flight Syracuse would like to thank all the AXA Cares members who make each Mission a success. Without them, this partnership would not be possible.