Veteran Spotlight: A Long-Overdue "Thank You" Provides Closure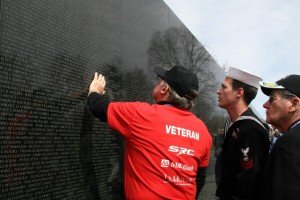 Honor Flight Syracuse offers war veterans more than a free trip to visit monuments in their honor. For many, it provides an opportunity for closure. "It's a whole package. It's not just visiting memorials. It's the genuine 'welcome home' you hear from the people you meet. It's the 'thank you for your service'. It was magnificent to hear that after all those years," said 67-year-old John W. Wilson, Jr., Vietnam Veteran with the 84th Artillery, 9th Infantry Division. Wilson was a draftee who volunteered for artillery, following in the footsteps of his father who served in Army artillery in World War II.
Returning home from Vietnam, Wilson faced new battles. There was no homecoming for Vietnam Veterans and worse, Wilson and other vets felt forsaken, "We were made to feel disgraced." Honor Flight helps right that wrong for veterans. Wilson joined Honor Flight Syracuse for Mission 3, on April 5, 2014. Aboard Mission 3, Wilson, who has Vietnam Agent Orange-related leukemia, joined other veterans, mostly from World War II and some who served in Korea. The 60 Syracuse-area veterans left Syracuse Hancock Airport and were flown to Washington D.C. to visit the World War II Memorial, Iwo Jima, Arlington National Cemetery, and the Korean and Vietnam memorials.
"Touching the wall, and the names of my buddies, gave me an immediate connection/flashback to them and the last time I saw them. It was very, very moving," said Wilson, who made a movie and documented his Vietnam experience in his book, titled, DRAFTEE Summoned to Serve: The Plight of a Vietnam Draftee in War and Beyond. Based on his Honor Flight experience, Wilson urges other veterans to apply for a Mission, "If there's any way possible that you can go – go!  It is magnificent. All I can do is guarantee
that you will be so glad you went. It will be beyond your wildest expectations. It's genuine, and they're thanking you for your service."
Honor Flight Syracuse invites World War II and Korean War veterans, and all terminally ill veterans from any era, to apply for a future Mission. Visit www.honorflightsyracuse.org to apply.