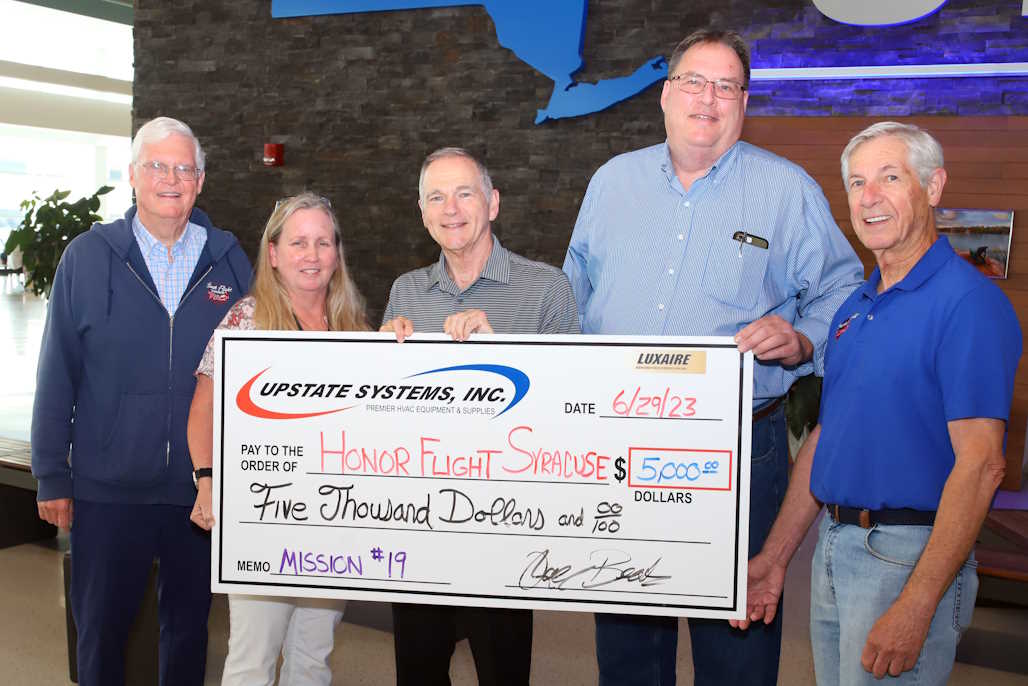 Upstate System Inc.'s Generous Donation
Honor Flight Syracuse wants to share a profound July 4th holiday weekend THANK YOU to Upstate Systems Inc. for their over-the-top donation of $5,000! Upstate's Territory Manager Todd Tuohey presented the check in a brief ceremony at Hancock International Airport. On hand to gratefully receive the gift from Todd and his wife Pam were Honor Flight's Jeff Bastable, Gary Livent and Dan Cummings. Tuohey says Upstate Systems is proud to be a part of Honor Flight and he credits the company's "fantastic customers and loyalty" for allowing this engagement with our veteran community.
Upstate Systems, in business since 1984, is a family-owned company offering premier HVAC equipment and supplies, operating out of Syracuse, Rochester and Buffalo. In a letter to Honor Flight, Upstate's General Manager Raymond Beato said, "Each year we choose a good cause and help those in need. We admire your organization and how you help the community."
The inspiration for the gift started with a chance meeting at an Honor Flight Syracuse welcome home ceremony four years ago. Tuohey's wife Pam, a longtime supervisor with Jet Blue, struck up a conversation with veteran Cam Tomarchio, who served with the Marines in Vietnam. Cam arrived two hours early at Hancock Airport to make sure he was in the front row to greet the returning veterans after their day in Washington. Some of Pam's Jet Blue co-workers joined her for their own photo op with this special veteran. Pam says she's always been impressed by the welcome home ceremonies, but when she met Cam that day, "to see the pride he had supporting the Honor Flight made my appreciation even stronger. That one connection I made that day with him four years ago made such a difference in both of our lives." Pam visited Cam regularly and they maintained a close friendship until the day he died in February 2022. Pam remains close to this very day with Cam's widow Grace.